Congratulations to our Filipino students who participated in the XXIX Asian Pacific Mathematics Olympiad (APMO) for winning 1 Gold award – our country's first in the APMO, 2 Silver awards, 4 Bronze awards, and 3 Honorable Mention awards.  Their performance puts the Philippines at Rank 11 out of 39 participating countries in this year's competition.
Our awardees are the following students:
Farrell Eldrian Wu (MGC New Life Christian Academy) – GOLD
Albert John Patupat (De La Salle University Integrated School) – SILVER
Kyle Patrick Dulay (Philippine Science High School – Main) – SILVER
Clyde Wesley Ang (Chiang Kai Shek College) – BRONZE
Andres Rico Gonzales III (Colegio de San Juan de Letran) – BRONZE
Carl Joshua Quines (Valenzuela City School of Mathematics and Science) – BRONZE
Vince Jan Torres (Santa Rosa Science and Technology High School) – BRONZE
Sean Anderson Ty (Zamboanga Chong Hua High School) – HONORABLE MENTION
Vincent Dela Cruz (Valenzuela City School of Mathematics and Science) – HONORABLE MENTION
Stefan Marcus Ong (Saint Jude Catholic School) – HONORABLE MENTION
The APMO is an annual regional mathematics competition for high school students who have to hurdle a four-hour paper consisting of five original problems. Unlike the International Mathematical Olympiad, this competition is administered locally by organizers from participating countries from the Asian Pacific Region. The overall results are posted in http://www.apmo-official.org/2017/ .
The organizer for the Philippines is the Mathematical Society of the Philippines (MSP) which invited the National Finalists of the 19th Philippine Mathematical Olympiad to take the APMO last March 14, 2017, at the Institute of Mathematics, University of the Philippines – Diliman.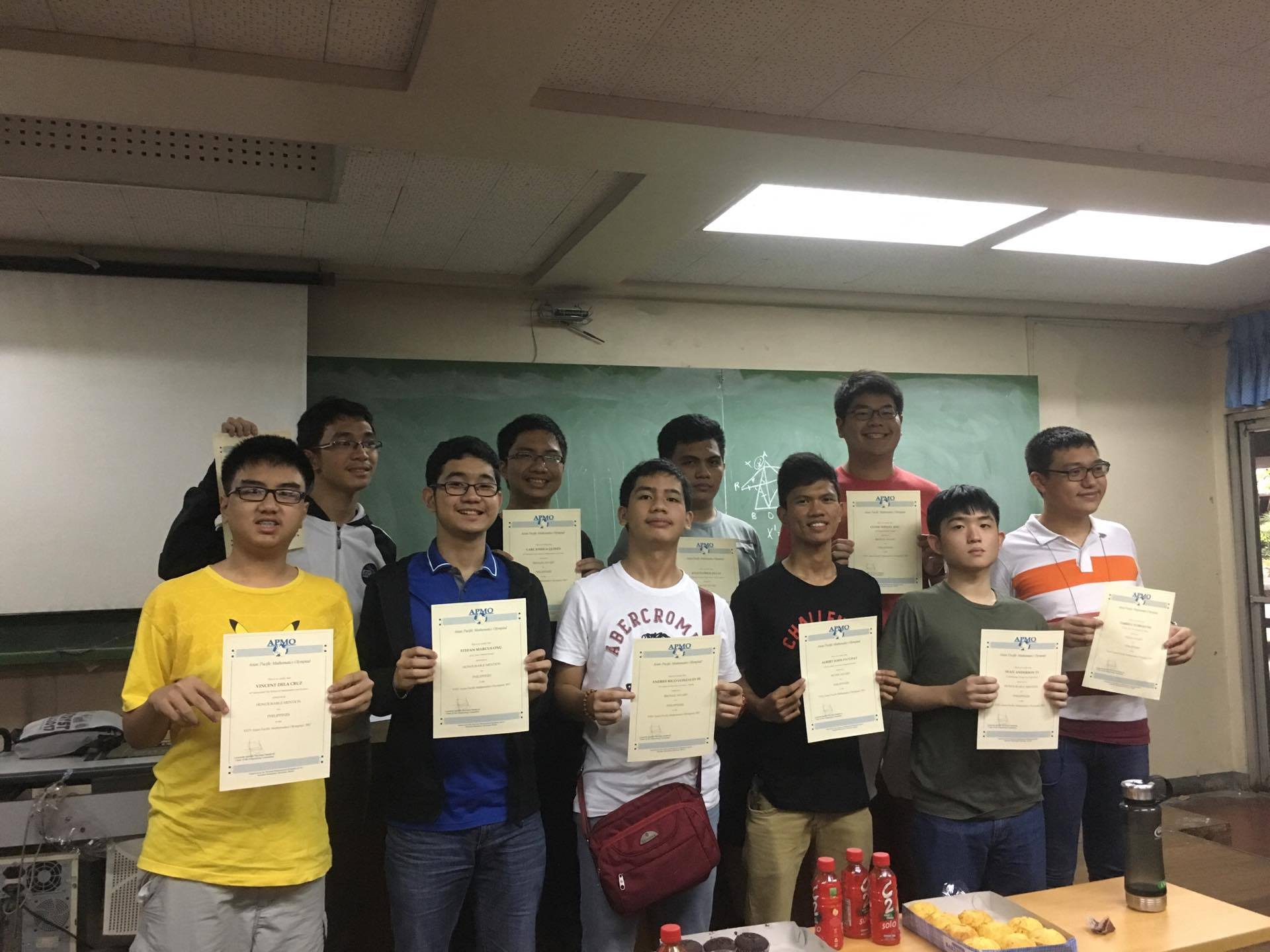 Front (L to R) Vincent Dela Cruz, Stefan Marcus Ong, Andres Rico Gonzales III, Albert John Patupat, Sean Anderson Ty, Farrell Eldrian Wu
Back (L to R) Vince Jan Torres, Carl Joshua Quines, Kyle Patrick Dulay, Clyde Wesley Ang